What happened to Norwegian charter carrier Partnair?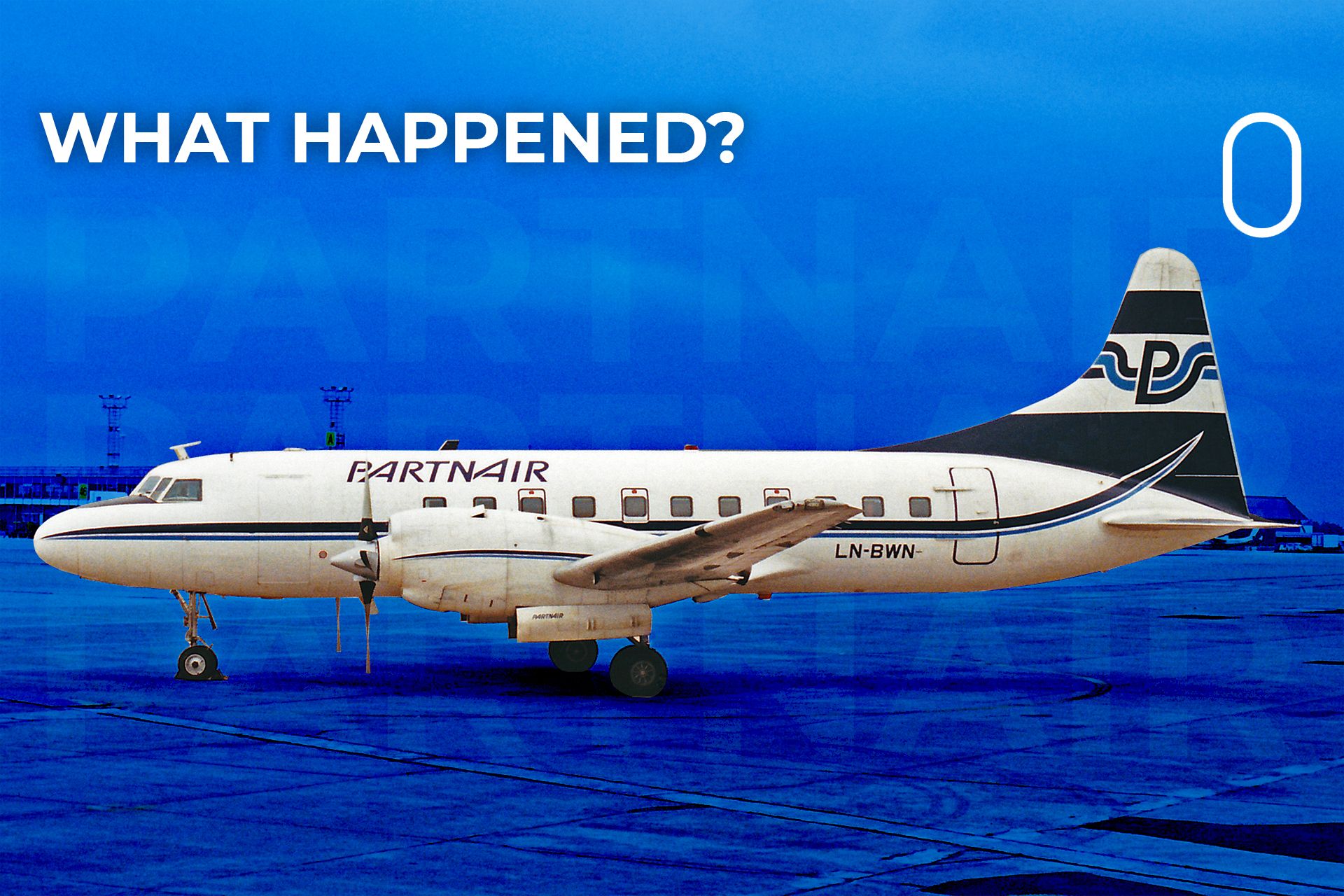 Partnair was a Norwegian charter airline based at Oslo Airport, Fornebu (FBU), with an operating base at Stavanger Airport (SVG) in Sola. The airline operated from 1971 until its merger with Nor-Fly Charter in 1984. Financial difficulties followed, from which the new airline recovered before the crash of Partnair Flight 394 on September 8, 1989 compels you to file for bankruptcy.
Unlike most airlines founded after developing a thorough business plan, Partnair started life with the idea of ​​a parachute club. Fed up with continually renting a plane every time they wanted to go skydiving, a group of friends got together and bought a Cessna 180 in February 1969 and formed a company called "Paralift". The Cessna was quickly upgraded to a Cessna 182 before a Cessna 310 arrived a year later.
Paralift launches into air charter
After obtaining its commercial air operator certificate in 1971, Paralift took delivery of a de Havilland Dragon Rapide, which it fitted out for parachuting. Seeing an opportunity to expand into private charter flights, Paralift targeted businesses by offering private charters on twin-prop aircraft. Although slightly slower, small planes were much cheaper to operate than business jets.
This meant that Paralift could undermine other air charter companies and offer a per-seat fare for less money than the airlines charged on scheduled routes. On top of that, companies could tailor non-stop flights to destinations of their choice, making Paralift a popular choice for executives traveling in groups.
The rise of the Norwegian oil industry has helped
Now operating successfully as a charter airline, Paralift replaced its aircraft with Piper PA-31 Navajo, Piper PA-31T Cheyenne and a Cessna 404 Titan. Norway's booming oil business played an important role in the airline's success, and between 1975 and 1977 the airline changed its name to Partnair.
In 1978 Partnair took delivery of its first Beechcraft King Air 100 and its first Beechcraft Super King Air 200. Seeing an opportunity to enter the lucrative air charter business, Norwegian shipping company Tenvig purchased Partnair in 1983 and invested millions of Norwegian kroner in the airline.
A former military terminal in Oslo Fornebu has been transformed into an executive lounge named Terminal 2 for all Partnair flights to and from the Norwegian capital. In September 1984, Partnair purchased Nor-Fly Charter and used its two Convair CV-580s to ferry oil workers to Andøya Airport (ANX) on the island of Andøya, inside the circle arctic polar.
In 1985 Partnair was looking to expand and asked the government for regular flights between Oslo, Gothenburg and Copenhagen. Partnair has also sought to launch flights from Notodden Airport (NTB) in Telemark County and Stavanger Airport (SVG) in Rogaland County. This turned out to be a disaster and resulted in the airline losing millions of crowns. In 1986 the airline had a deficit of 6.5 million crowns and was in financial difficulty.
The crash of Partnair Flight 394 was the last straw
Fed up with losing money, Tenvig decided to close the airline in 1987. Following bankruptcy proceedings, 70% of Partnair was bought by a company called "Helikopter Service". Presumably they wanted Partnair to expand its flights to the oil industry. A year later, the new airline was profitable again, which led Helikopter Service to sell its shares to the brothers Terje and Rolf Thoresen.
On September 8, 1989, a 36-year-old Convair CV-580 operating as Partnair Flight 394 crashed off the coast of Denmark, killing all 55 passengers and crew. The subsequent investigation into the accident determined that it was caused by poor maintenance and the use of counterfeit spare parts. On October 11, 1989, the airline again filed for bankruptcy and never returned.