Trinity Yachts' 60m Mia Elise II joins the market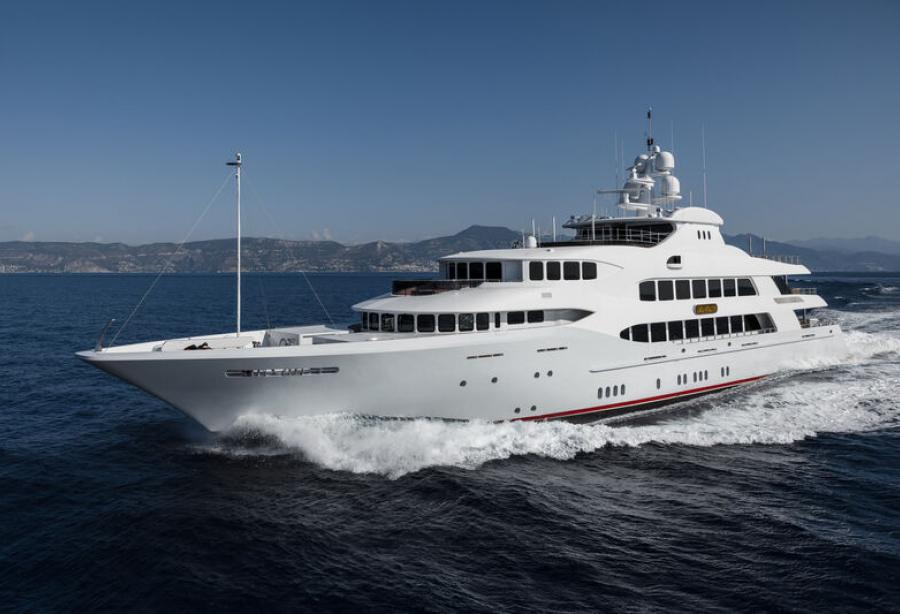 The 60.15 meter superyacht Mia Elise II from Trinity Yachts has entered the market. The Mia Elise II yacht was introduced in 2012 and has undergone years of diligent maintenance. She was completely renovated in 2022, completing her 10-year ABS survey, and is now offered turnkey.

Mia Elise II, originally known as Areti, was the first Trinity superyacht to exceed 60 meters when delivered. Her American builder had successfully exploited the 50-60 meter market since the turn of the millennium with a number of outstanding yachts.

For the exterior styling of this yacht for sale, Trinity's in-house naval architects collaborated with Geoff van Aller and chose a cascading forward superstructure accented by tiny windows. The deck on the main deck overlooks the bow and is used for the storage of tenders, while the owner has a small private deck on the upper deck forward.
Six bedrooms can accommodate up to 12 people, she has a solid experience as a charter boat. Her interior design was done by studio Patrick Knowles, who also gave her mahogany and Pacific Northwest madrone panels with cherry burl inlays throughout.

Following internal upgrades, Fort Lauderdale-based Yacht Next Design has upgraded its interior spaces with white marble flooring and neutral silk rugs on the main deck and teak wood flooring on the upper deck.

Mia Elise II is described as having a "traditional yet new vibe with a classic American twist". The superyacht has a wide beam and 916 GT, giving it almost the same capacity as two 50 meter long boats.

Patrick Knowles has designed a well-thought-out general layout that makes good use of her vast deck spaces and generous interior volume.
With a spa and gym, cinema, beach club, private owner's deck and a variety of water toys, superyacht Mia Elise II is brimming with luxury. The three decks of the Trinity Yacht for sale are accessible by lift.

Mia Elise II can travel at a top speed of 15 knots and a cruising speed of 11 knots thanks to the two CAT engines that propel her. The superyacht has a remarkable range of 3,500 nautical miles when sailing.

It is one of the largest yachts in the world capable of accessing the Bahamas since it is built in aluminum and has a draft of 2.8 meters. Since 2015, Mia Elise II has crossed the Atlantic 14 times.

All of her refits and maintenance appointments over the years have been carried out by Derecktor Shipyards in the United States. The most recent restoration of the Mia Elise II, completed this year, included a complete repaint of her hull and superstructure, her engines serviced, her generators rebuilt and all lighting upgraded in addition to her new $2,000,000 audio visual system. , installed between 2020 and 2021. In addition, the superyacht tender garage has been restored and numerous interior and exterior upgrades have been made.

Credits: Trinity Yachts