Strange airplane graveyards in Bangkok and Arizona are home to military jets and planes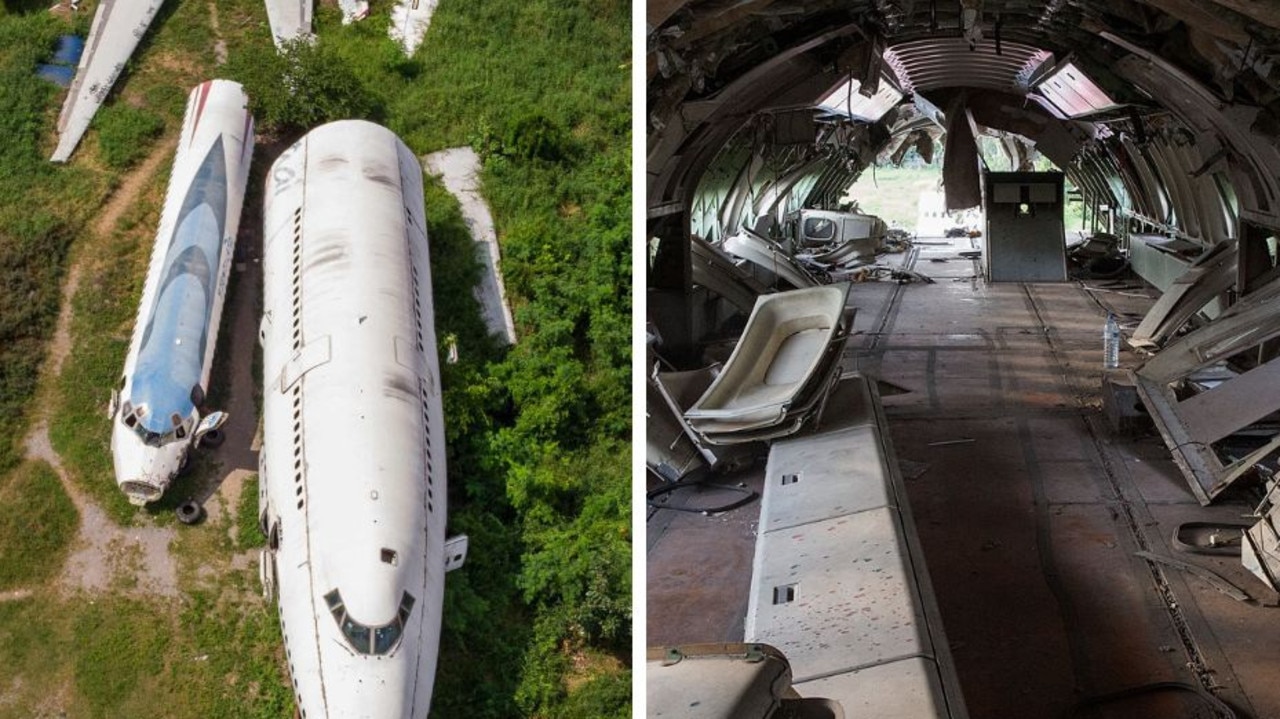 What goes up must come down – and for these jets, that means being left to rot in sprawling aircraft "graveyards".
A strange plane resting place has emerged in Thailand where two private jets worth a total of $123 million have been jettisoned, while dozens of derelict military planes gather dust at a sprawling site in Arizona , in the USA.
The bizarre Southeast Asian storage site east of Bangkok has turned into a quirky tourist attraction, The sun reports.
Hundreds of visitors are eager to pay 300 baht (A$12) to see the planes, which are estimated to be worth around $62 million each.
Most parts of the planes interiors have been removed while debris is strewn around the plane.
But although they are no longer suitable for flight, investors have devised an extraordinary way to reuse them.
At one point, the two planes, operated by Orient Thai Airlines, were to become outdoor bars.
However, the audacious plans were abandoned after the bankruptcy of the businessman who financed the project.
Photographer Dax Ward, who has previously visited the site, discussed the doomed business deal – which left the plane to rot.
He explained: "The planes were said to have been placed there a few years ago by an overseas investor who wanted to create a special outdoor bar using the fuselage as a stage for bands and service rooms for the bar crew.
"The project was a fiasco and the foreign investor left the site as it was.
"As far as I know, there are currently no plans to move them, although the land they sit on is quite expensive."
As both aircraft's registration numbers have been painted on, it is difficult to decipher when the aircraft were operated or retired.
He added: "It's very strange in the cemetery.
"There are children's toys and other personal items strewn about, left behind by people who stayed there for whatever reason, which almost feels like being at the site of an accident.
"In Thai culture, places like this are often considered haunted, even though no one has actually died there."
Three Thai families are said to have moved into the skeletons of abandoned planes in recent years.
They started charging tourists to peek inside their particular homes, giving people another view of the planes.
Meanwhile, private jets aren't the only planes that have been abandoned by owners in the United States.
Thailand's bizarre tourist hotspot is dwarfed by the size of this dumping ground in the American desert.
In Tuscon, Arizona, more than 4,000 military planes have been left to collect rust in a massive junkyard.
Known as The Boneyard, the storage site outside Davis-Monthan Air Force Base houses abandoned aircraft.
The site hosts demilitarized aircraft that are auctioned off by the Aerospace Maintenance and Regeneration Center (AMARC).
The plane can be broken up for spares, melted down for scrap, or regenerated.
The site, considered the largest aircraft graveyard in the world, was chosen for its location.
Arizona's dry climate means it takes longer for planes to rust.
This story originally appeared on The sun and is republished here with permission