Luxury Aircraft Solutions named to Inc. 5000 list of fastest growing private companies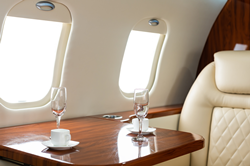 We are thrilled to be recognized as one of America's fastest growing private companies.

NEW YORK (WEB PR)
August 18, 2022
Luxury Aircraft Solutions (DBA JetMembership.com), an aviation services company specializing in chartering private jets, has been named to the 2022 Inc. 5000 list of America's fastest growing companies. This is the third time Luxury Aircraft Solutions/JetMembership.com has received this accolade, a testament to the company's continued success with 222% reported growth.
This honor is the third time this coveted award recognizes the company's remarkable revenue growth. Luxury Aircraft Solutions/JetMembership.com has been consistent for years and is a frequent addition to the Inc. 5000 list, having been named to the list in 2018, 2021 and most recently in 2022.
"We are thrilled to be recognized as one of America's fastest growing private companies," noted the founders of Luxury Aircraft Solutions and JetMembership.com. "This achievement is a testament to the hard work and dedication of our entire organization and our partners, and we are proud to be part of this prestigious list again."
Inc. 5000 is an annual ranking of the fastest growing private companies in the United States. Inc. magazine compiles the list, which features companies in a wide range of industries, from technology to retail to healthcare. The Inc. 5000 list is a great way to learn about emerging private companies across the country; it's also a good way to see which industries are growing fastest. To be eligible for this year's list, companies must be private, for-profit and have had annual revenue of at least $2 million in 2021.
Recently, the company expanded, opening a new Florida office in Melbourne, Florida, and appointing Jack Willison as Managing Director. The 3,000 square foot office space is located near prestigious companies, such as Northrop Grumman, L3 Harris, SpaceX and Blue Origin, to name a few.
"There have been a number of exciting changes on the horizon," Willison said. "Because we've experienced such explosive growth over the years, we knew it was time to expand. We recently opened the new branch in Melbourne, Florida. It has been growing steadily since the spring and I am thrilled and thrilled that the owners group has given me the opportunity to expand the business in Florida.
Luxury Aircraft Solutions is a leading provider of private aviation services. They offer a full range of aircraft and charter management services for the convenience and peace of mind of their customers. Their team of highly experienced professionals are dedicated to providing the highest level of security, service and experience in the industry for 12 consecutive years.
In order to better serve its customers and offer the most competitive prices in the industry, Luxury Aircraft Solutions has also launched a membership service, JetMembership.com, which offers customers wholesale rates on private jet charters. . JetMembership.com is available for individuals, families and businesses who want to save on their travel costs when renting a private jet. JetMembership.com offers its members access to a network of many private planes around the world, and it is a convenient and more economical way to travel by private plane compared to the competition.
With decades of industry experience, Luxury Aircraft Solutions and their JetMembership.com product offer the knowledge and expertise to provide customers with the best possible service. They are committed to safety, security and customer satisfaction. Their number one priority is to provide customers with the safest, most reliable and most comfortable private aviation experience possible. They provide their customers with the latest aviation technologies and services, and they are constantly innovating and expanding their services to meet the ever-changing needs of their customers.
##
To learn more about Luxury Aircraft Solutions, Inc. and JetMembership.com, please contact Noah Terry, Director of Marketing and Public Relations, at 1(631) 676 7488 x19 or email [email protected]tmembership.com . Visit them on the web at https://www.luxuryaircraftsolutions.com and http://www.jetmembership.com, or download the app from the Apple App Store (iOS) and Google Play (Android).
Share the article on social networks or by e-mail: