Dubai Yachts Offer Luxury 'Social Distancing' Sides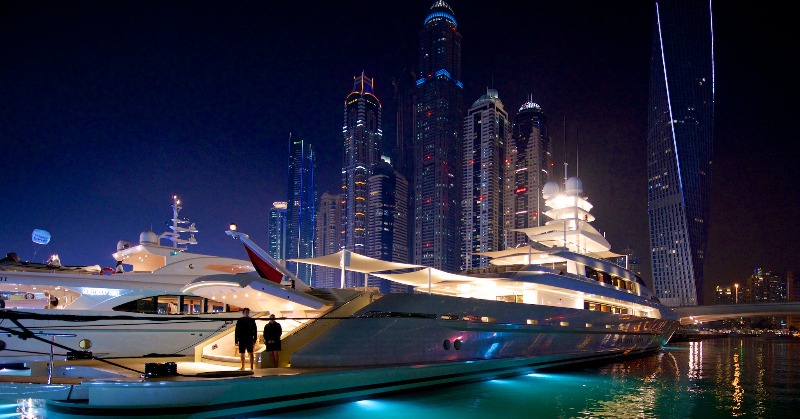 Dubai is known for providing luxurious vacations for those looking for a good time while spending a lot of money. Now, adapting over time due to the COVID-19 pandemic, a new mode of travel has become popular – yachts!
"It's more private, you're only with family and friends, and it's the perfect outing during a pandemic," said Nada Naeem, a 36-year-old Saudi citizen living in Dubai.
According to a AFP report, several white yachts are seen daily sailing the bays, canals and islands of the emirate, while others are moored along the coast in gulf waters overlooking the skyline of towers. great height.
"You feel like you can breathe," Naeem added. She has not left Dubai since the pandemic began last year. She also said: "It's like you've traveled."
Dubai opened its doors to tourists just months after the outbreak of the coronavirus pandemic last year.
Life is back to normal, with restaurants and hotels operational and beaches open to the public. The United Arab Emirates, made up of seven emirates including Dubai, has launched a vigorous vaccination campaign with some of the highest vaccination rates in the world and continues to enforce strict rules on wearing masks and social distancing.
However, some are still afraid of traveling abroad and want to avoid crowded places to avoid the risk of getting infected with COVID-19.
So, for those who can afford the top dollar, yachts are the way to go!
"When they relaxed the lockdown… people preferred something safe and secure with regulations," said Mohammed al-Sayyed, director of rental company Royal Star Yachts.
"We provide them with the proper customer service, following all the rules, disinfecting the yacht," he added.
At present, yachts are allowed to operate at 70% of their capacity. The company has a fleet that includes a 141-foot (42-meter) yacht capable of accommodating 80 passengers at full capacity – if you can afford the price of $ 4,900 for a three-hour cruise.
According to charter companies, there has been increased interest in yachting following the easing of measures against the coronavirus, especially among those who want to spend quality time with friends and family.
"People want to go sightseeing, cruises," said Sayyed, who has worked in the yacht industry for eight years. "They want to relax."
There are also cheaper yachts for charter – like the company's 90 foot "Big Daddy" – she is capable of carrying 65 people, at $ 1,225 for three hours – down to smaller boats.
Some Dubai residents said that once separated into a group, the price was not as high as it first appeared.
"It can actually be more affordable than an all-inclusive brunch at a restaurant," Naeem said.
Sayyed said his company abides by all the rules and that even on the most luxurious "party yachts" there are still Covid-19 regulations, including the need for passengers to socially distance themselves from each other and wear masks.
What do you think of that? Let us know in the comments.