Detailed analytical overview of the yacht charter market by 2021-2031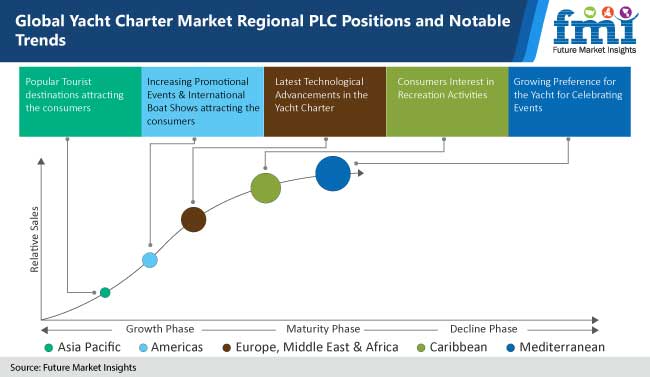 Global yacht charter sales are expected to grow at a healthy CAGR of over 5.4% during the forecast period 2021-2031, according to a study by Future Market Insights (FMI), an ESOMAR certified market research firm . The study tracks yacht sales in more than 20 countries, offering lucid analysis on how the growth trend will play out.
Market players have attempted to provide state-of-the-art yachts for charter because they realized the value of incorporating state-of-the-art technology. As a result, existing players are increasingly trying to maintain full operational transparency and deliver advanced smart yachts with a range of smart technologies to offer multi-functional areas and spaces, a main lounge and a beach club.
For example, the sensational mega yacht LANA (107m / 351.1ft) from the Italian shipyard Benetti embraces the dignity of art deco and blends it perfectly with the sporty curves, pale colors and diverse textures of the architecture. contemporary. Guests will enjoy a gorgeous beach club with drop-down decks, a hammam-style spa and gym, as well as large lounges with cinema-style seating.
Apart from that, yachts spend the majority of their time sailing within easy reach of the coast. As a result, players are investing to make 4G LTE and 5G networks more available than ever before, delivering cost-effective high-speed connectivity to consumers on board via 5G-enabled data systems.
Such offers make customers spend long hours with family and friends, or make their vacations memorable. All aspects of a luxury yacht, including navigation, safety and extraordinary convenience, are improving with new technology.
For example, DLBA Naval Architects has developed an autonomous superyacht. Tempo, the yacht, will integrate artificial intelligence (AI) into various aspects of its architecture. This will not only improve the on-board experience, but it will also mean that some systems will be able to operate without human intervention.
Another factor expected to drive the growth of yacht rentals is short-term rentals, which typically last one to three days and are unaffected by seasonality, a factor that limits the number of days available for yacht charter. With the growing demand for short-term rentals, yacht charter service providers are focusing on regular charter rates for two-day yacht rentals, which are typically 40-50% of the weekly rate.
Key points of the yacht charter market research
The yacht charter market is expected to grow at a CAGR of 5.4% between 2021 and 2031.
High spending on luxury vacations is catapulting the United States as a key market.
Demand in Thailand will continue to increase in response to expanding tourism sector
Indonesia and Maldives to become popular yacht charter destinations in Asia-Pacific
Demand in GCC countries will grow at over 7% CAGR between 2021 and 2031
"The major players in the global yacht charter market are investing in cutting edge yacht interiors, such as the use of unique textiles and fabrics with an emphasis on durability to match the aesthetics of the yacht. Unique motor and sailing yachts with new decor, woodwork and beautiful lighting are being introduced by companies, "says an IMF analyst.
For more details ask the analyst @ https://www.futuremarketinsights.com/ask-question/rep-gb-543
Impact of COVID-19 on the market:
Prior to the COVID-19 pandemic, there was a moderate growth rate in demand for yacht charter worldwide. After the pandemic, major global markets faced a double impact. The demand for technology driven motor yachts has increased due to its variety of advantages. But with stay-at-home orders and home safety advisories issued around the world, demand for yacht rentals has slowed in response to the implementation of various restrictions. Restrictions have also been placed on tourist spots such as Indonesia, Malaysia, the UK and the US.
Who wins?
Some of the major players in the yacht charter market are NORTHROP & JOHNSON, Yachtico Inc., Sailogy SA, Sweet Escape Yacht Charters, ARGO NAUTICAL LIMITED, Burgess, Sunseeker, Royal Yacht International, Ionian Catamarans and IYC, Mooring Company and Zizooboats GmbH, among others. Numerous discount offers on yacht rentals throughout the seasons and on certain events such as company parties or pre-wedding photoshoots and other such events have sparked the desire of end consumers to opt for charters incorporating intelligent technologies.
Architects and builders look for natural and certified green building materials. Alternative energy sources such as sun, wind and waves can now be harnessed thanks to technological advancements. The use of wastewater treatment methods and compostable supplies, as well as recycling and disposal of unnecessary plastic waste, are all used. The players are focusing their efforts on providing environmentally friendly yachts in order to contribute to long-term initiatives. For example, the Black Pearl is an environmentally friendly private yacht that recently received a Boat International Design and Innovation Prize. When the boat is sailing, electricity is supplied and returned to the batteries, so the diesel-electric hybrid engine does not need a charging station.
In 2019, Feadship Company launched the 703 75-meter motor yacht 'Arrow' for charter at its Aalsmeer shipyard. H2 Yacht Design produced the company's Arrow yacht.
Get valuable insights into the yacht charter market
Future Market Insights, in its new offering, provides unbiased analysis of the global yacht charter market, presenting historical demand data (2016-2020) and forecast statistics for the period 2021-2031. The study discloses compelling information on the yacht charter market based on yacht type (sailboat and motor yacht), size (small – up to 30m, medium -30m – 50m and large – more than 50 m), consumer type (business and retail type) in seven large regions.
Summary
According to the recent Future Market Insights market report titled "Global Yacht Charter Market: Overall Industry Analysis 2016-2020 and Opportunity Assessment 2021-2031", is expected to show favorable growth trends and opportunities. Charter yachts are used to navigate to a variety of coastal and island locations. This is usually a leisure activity, but it can also be used for business events.
Customers all over the world, regardless of the season, are increasingly getting involved in weekend yacht charter after a long week. With the growing demand for short-term rentals, yacht charter companies are focusing on daily rental rates for two-day yacht rentals, which are typically half the price of a week's rental. Customers can book their boat trips at the same time as their plane tickets.
Apart from that, customers prefer online yacht booking services because they allow faster and more personalized bookings at a lower cost than offline platforms or through travel agents. Leading travel and travel agencies are partnering with online yacht charter service providers to offer combination yacht and airline packages.
For example, within the Saber travel market, the Yachtico company introduced an app that allows travel agencies to book yachts and boat charters. The Yachtico app, now accessible through the Saber Red App Center, allows travel agents to access a database of 16,000 professionally operated yachts. Apart from that, players even have exclusive offers like discounts on charter flights.
For example, NetJets Inc. announced a strategic alliance with Northrop & Johnson in September 2019 to offer enthusiasts of yachting a superior travel experience and a variety of exclusive offers.
The detailed analytical overview of the yacht charter market by 2021-2031 first appeared on the Market Research Blog.